Ad Campaign Samples: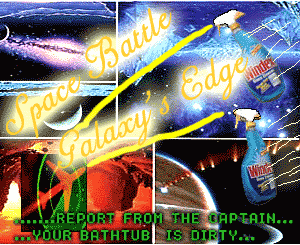 Advertising Theme: Space Noises
Ad Campaign Title: "At Galaxy's Edge"
Client: 409 Spray Cleaner, a Windex Company
Media Format: Magazine ad. Full-color with 3-D glasses option. Ran in Oprah Magazine, Better Homes and Gardens, Rosie O'Donnell Magazine, Woman's Digest, Redbook, Country Homes and Kitchens, and Woman's Day.
Goals: Combine the excitement of fighting in outer space with the excitement of spraying chemicals in your bathtub to eliminate ring around the bathtub. To let people know that life exists on other worlds and life exists in your bathtub if you don't clean it. Are germs actually microscopic aliens in your bathtub? I don't know-- why don't you ask them... at galaxy's edge.
Previous Theme: Urban Fantasy | Next Theme: Guys on Sofas
Home: homepage